This shop has been compensated by Collective Bias, Inc. and its advertiser. All opinions are mine alone. #ThinkOutsideTheWipe #CollectiveBias
Kids are messy.  We all know this and as moms, we are usually looking for any fun way to get kid's involved in cleaning up those messes, big and small!  My son loves to help out but I have found some ways to make cleaning really fun.
I created a kid's cleaning kit with everything you need:
a FREE printable DIY Wet Floor Caution sign,
a printable Chore and Sticker Chart,
Ok first let's talk about the cleaning kit.  The first item your kid's cleaning kit needs is the Huggies Cleansing Wipes.  These are for SO much more than diaper changes!  I use them on my kid's faces, we have them in the car, and they are in this cleaning kit.  My son loves wiping down counters, the knobs, light switches, and everything in between.
I bought mine from Sam's Club and I love shopping as a Sam's Club member because you get SO much more bang for your buck!
I found these in the personal care aisle at Sam's Club or your can find Huggies Wipes online here:
If you want to use the Huggies® Cleansing® Wipes in your kid's chore kit, hover over the photo below to click through to Samsclub.com and buy them!"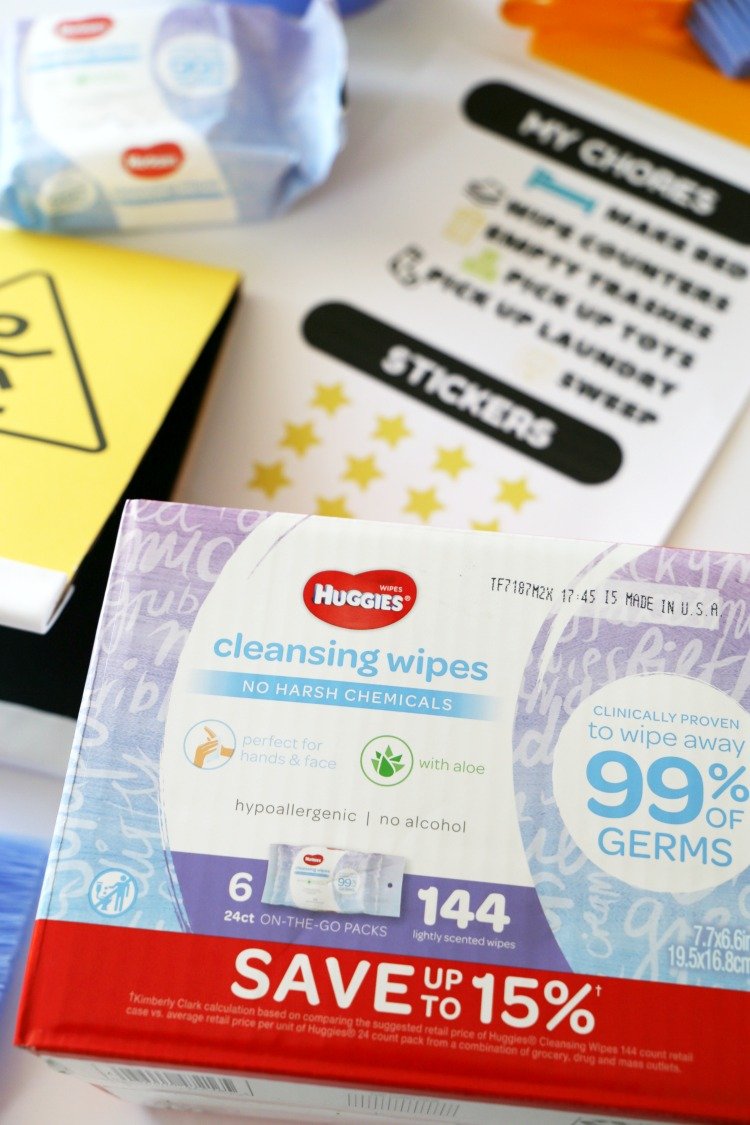 The wipes are gentle enough so that you won't worry about them being in your kid's hands or wiping their faces but tough enough for big messes.  My son has sensitive skin but these wipes are fragrance free, alcohol free, paraben free, and hypoallergenic so I don't have to worry.  These wipes also kill 99% of germs without all of the harsh chemicals so that makes them perfect for a kid's cleaning kit!
The Huggies Cleansing Wipes also have an EZ Pull® Dispensing so my son only gets one wipe at a time. I just asked him to see how much he could clean in 15 minutes, set the timer, and watched him go!  🙂
He even got a new wipe out and cleaned the cookie crumbs off of his sister's face!  They are really soft and have aloe and Vitamin E so they are great for your hands and face.
All better!
He wiped several foot prints off the floor and then put his new WET FLOOR caution sign up.  🙂
I created this chore chart for him that is filled with the chores that he usually helps out with and he loves being able to add a sticker.  This is a simple way to encourage your kid's to help out.  I included small icons for the kid's who don't read yet so they will still know what to do.
Click below to Download and Print the Chore Chart Printables:
I also made this really realistic DIY Wet Floor Caution Sign for the cleaning kit and my son thinks it's so fun to put up every time we mop.
Instructions:
Cut a long rectangle piece of cardboard out for the base of the sign.  Print the caution sign from below onto yellow paper.
Click here for CAUTION sign printable
I hot glued the yellow paper to the outside and black paper on the inside.
Then I hot glued some foam to the bottom so that the paper wouldn't get wet on the floor.
I also hot glued a small piece of foam to the inside so it would stand up.
I just put the Huggies Cleansing Wipes, the chore chart, the wet floor sign, and a few other things in a basket for when he does his jobs.
How do your kids help out around the house?  I hope these printables and tips about Huggies Cleansing Wipes will inspire you to get creative with your kid's chores around the house!   🙂